Aerporto Leonardo da Vinci
Travel Guideline - "All Roads Lead to Rome"
Season
Rome has a Mediterranean climate, with July temperatures reaching an average 85°F during the day and drop to 65°F at night. Expect plenty of sunshine, warm weather and a nice breeze, as Rome Cavalieri is perched on a hill overlooking the city.

Flying to Rome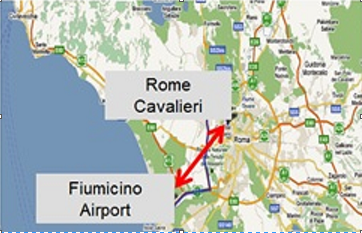 Rome has two international airports with over 40 million passing through the city every year. Aerporto Leonardo da Vinci (please link: http://www.adr.it/fiumicino) is the largest international airport in Italy and is located 25km/22m (40 minutes) from Rome Cavalieri.
Direct Flights from the U.S.
Atlanta
Boston
Chicago
Los Angeles
Miami
New York
Philadelphia
Washington, DC
Here are some additional major hubs outside of the US:
Amsterdam Airport Shiphol
Brussels Airport
Copenhagen Airport
Frankfurt am Main Airport
London Heathrow Airport
Munich Airport
Paris Charles de Gaulle Airport
Toronto Pearson Canada
Ciampino Airport is the second largest international airport in Rome and is used by budget airlines Easyjet and Ryanair. Ciampino is a 45km/28m (50 minutes) from Rome Cavalieri.
Driving to Rome
If you are traveling from Europe, we highly discourage to drive as the hotel does not provide parking.